ASSISTANT EQUIPMENTS FOR POWDER & LIQUID FILLING SYSTEMS
Rotary Feeder

Rotary feeder is used to feed the material inside the silo in control. And also it forms a barrier between the silo and the feeding line against low or high pressure. The unit can be driven by a motor-reducer group or a chain-sprocket system. Pallets of the feeder can be made of bronze, Vulkolan or hardened steel. Dust leakage is avoid by Teflon gaskets.
Silo Activator
It ensures the free flow of material from silos in Industrial plants by means of vibration motor. It also prevents segregation, bridging, holing and sticking in the silo. It is connected flexibly to the silo so that the silo doesn't affect from the vibration.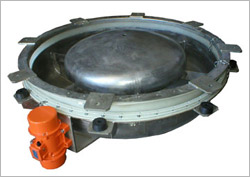 Screw Feeders
They are used as transportation and dosing equipments in factory automation. Screw feeder is appropriate for powder or small granular materials, they are not used for fragile or big granular materials. They can be manufactured in different sizes according to the customer's needs. Closed pipe type or U type is inside our manufacture range. In order to avoid squeezing the material, differing pitch sizes are used and in the end opposite directing screw is placed. Glen pressed Teflon gaskets are used to avoid dust leakage and bearings are taken out to prevent contacting with material.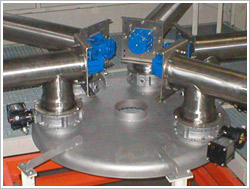 Diverter Valve
Diverter valve is a trouser shaped valve which ensures to guide the material to the desired direction under the silo. It can be manual or pneumatic operated. Valve's direction can be perceived by limit switches. All parts are detachable so that it is very easy to perform maintenance and repairing operations.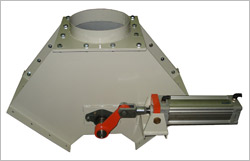 Bag Dumping Station
It is used to discharge the different sized bags into silos. Bag dumping station is placed on the material silos and there is a filtering unit to avoid dusting on the dumping station. Thank to grids inside the station, bags do not fall into the material silo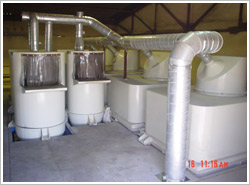 Lump Breaker
Lump breaker is used to break the lumps while discharging from silo. They can be manufactured in different sizes according to lump sizes and silo mouth. For high temperature applications all parts that are in contact with material is hardened, main body is made of HARDOX 400 material and leak-proof equipments are used as resistant to high temp. Bearings are taken out to prevent them from high temperature.