Mobile Micro Dosing Unit
Automatic System With Mobile Hopper
In structures in which bunker order must be on a linear line, shifting to mobile weighing bunker system for receiving goods from each bunker is a constructive requirement. Mobile weighing bunker systems are servomotor controlled, and movement of weighing bunker with slow accelerations is ensured by programming of servomotor.
Weighing bunker is exclusively designed and doesn't contain any pneumatic or mechanic connection devices, because such connections distort the precision of weighing bunker.
The wetted parts, is either Teflon plated or made of polished stainless steel according to the flow characteristic of the material. The control of the system takes place through PLC and SCADA systems. All dosing data are recorded as weekly or daily reports. If there are big differences between the amounts of the raw materials to be dosed, double weighing bunker system is used in both fixed and mobile weighing bunker systems.
According to the prescription, while the components that are excessive in amount are weighed in high capacity bunker, the micro components are weighed in low capacity bunker. Usually, these two weighing bunkers are located in the same shield and aligning the determined weigh bunker axis with the axis of the mouth of the silo is ensured as servo controlled.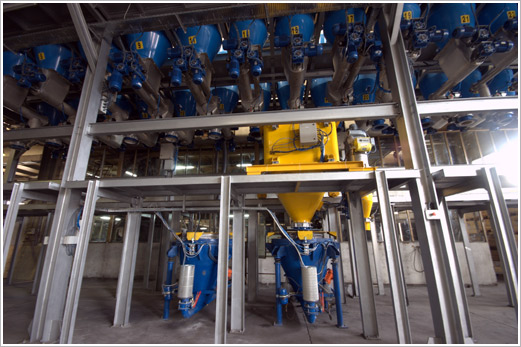 Manuel System With Mobile Hopper
Fixed weighing bunker systems are usually used in orders, which allow a circular lining of material bunkers around dosage weighing bunker. Also inlet of weighing bunker that is located at the center of bunkers, must be large enough to allow all bunker entrances.
In the system to be built right over the units to be fed (mixer, extruder etc…), the materials which are excessive in amount (major ingredients) are dosed with independent systems and the components with a lower ratio are dosed in a separate weighing bunker and fed to the unit via a different entrance. In this type of dosing, usually the amount of each component varies among different prescriptions.