LIQUID FILLING MACHINES
VD Type Drum Filling Machines
VD type drum filling machine realizes the filling of drums by PLC control. Filling weight can be between 60-250 Kg according to the customer. Gravity or a pump can be used to feed th liquid material. When filling is completed nozzle goes up and the sequence continues with another drum. In order to avoid dripping of liquid material on to the drums, a pneumatic operated plate can be used. Feeding process has two speed steps: one fast; for reducing the filling time, and one slow; for achieving accuracy. Slow and fast feeding weight values can be entered from the operator panel. The roller conveyor, which the drum stands on, can be driven by motor. There are also entrance and exit conveyors in the system.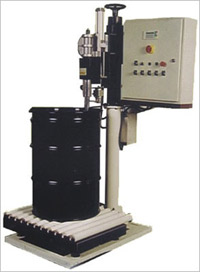 Four-Drum Filling Machine
In this system four drums that is on a pallet are filled one by one. Drums are weighed consecutively and total weight is calculated. Aligning the nozzle through the bunghole of the drums is done pneumatically by hand.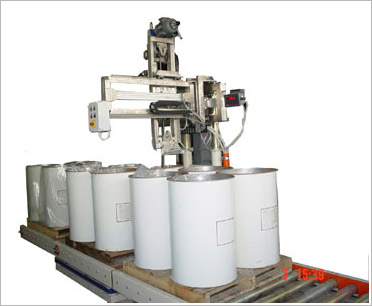 Automatic Drum Filling Machine
In this system, filling is done without an operator. Finding the bunghole, opening the lid, filling the liquid and closing the lid is totally automatic.
Pot Material

Drum, Cask

Pot Type
Metal, Plastic


Weighing Interval

60-200 kg

Accuracy

+/- 150 g

Capacity

2-3 minute/drum

Feeding Type
Pump
Free Flow

Operation Pressure

6 bar


Operation Voltage

220 -380 V


Control System

PLC (Siemens)

Weight

300 Kg
Container Filling Machine